Happy Sunday! Join us for the latest news in the digital marketing world, through our Sunday Rundown #86 🙂
LinkedIn experiments with generative AI prompts for posts
Seems that LinkedIn is not stopping at adding AI-generated profile summaries and job descriptions, with the professional social network now also experimenting with generative AI feed posts, via suggestions within the composer.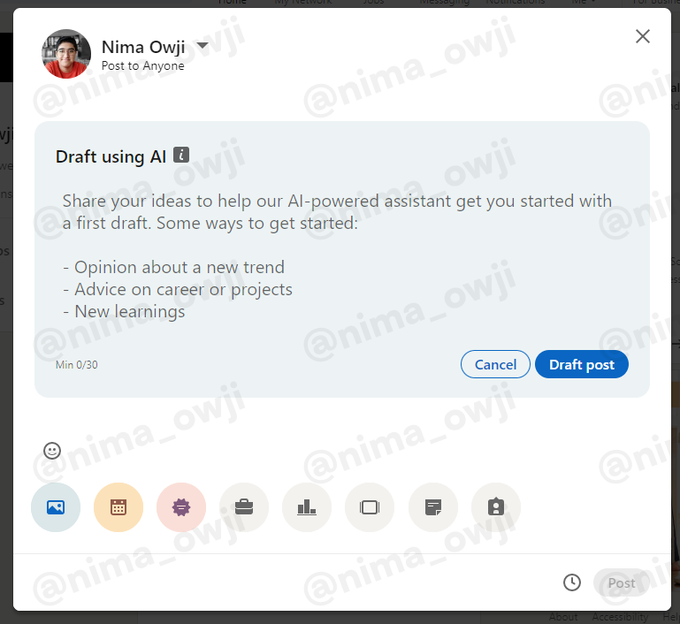 As you can see in this example, shared by app researcher Nima Owji, LinkedIn's in-development AI update assistant would prompt you to 'share your ideas' with the system to then get suggestions for a first draft of a LinkedIn post. It seems likely that more of these types of tools are coming, whether we like it or not. This will eventually lead to a lot of bots talking to other bots, while the actual people watching giggle at duping each other.
Meta says AI is improving ad efficiency as revenue growth returns
Meta Platform's revenue grew in the first quarter, according to an earnings release. The news suggests that the social media giant is showing signs of a turnaround following several quarters of declines.
Discussing the results with investors, CEO Mark Zuckerberg said that a renewed focus on artificial intelligence (AI) is buoying advertising. AI tools increased monetization efficiency for Reels, a TikTok lookalike, by 30% on Instagram and 40% on Facebook versus the prior quarter.
AI-powered recommendations that boost content from people and pages users don't follow are spurring engagement, representing more than 20% of the content in Facebook and Instagram feeds. People now reshare Reels posts more than 2 billion times daily, a metric that's doubled over the past six months.
Hacked verified Facebook pages impersonating Meta are buying ads from Meta
While we are still on the topic of Meta, a handful of verified Facebook pages were hacked recently and spotted slinging likely malware through ads approved by and purchased through the platform. But the accounts should be easy to catch — in some cases, they were impersonating Facebook itself.
Social consultant Matt Navarra first spotted some of the ads, sharing them on Twitter. The compromised accounts include official-sounding pages like "Meta Ads" and "Meta Ads Manager." Those accounts shared suspicious links to tens of thousands of followers, though their reach probably extended well beyond that through paid posts.
How did this ad get approved @Meta ?

😬

Verified account impersonating Meta tricking users into downloading shady tools pic.twitter.com/maPW6RWL3F

— Matt Navarra (@MattNavarra) May 4, 2023
What's most egregious in these cases is that the hacked pages were not only impersonating major tech companies, including Meta itself but that they were able to purchase Facebooks ads and go on to distribute suspicious download links. In spite of very recent account name changes, those ads were apparently approved without issue in Meta's automated ads system.
Bonus links
Thank you for taking the time to read our Sunday Rundown #86. If you have a story that you want to see in this series, reply to us below or contact us.